CRPTM integrates with Bibox seamlessly and makes tax reporting much simpler. With a few clicks, you can easily calculate your taxes owed and generate the required reports to submit to your tax authority.
A Bit About Bibox
Bibox was established in 2017 as the first AI-powered digital asset exchange. It is one of few blockchain enterprises that has obtained the Swiss VQF license, and has received praise from worldwide cryptocurrency experts and traders for our robust system, great variety of trading options, innovative listing programs and first-class customer service over the years
So far, Bibox has launched 579 tokens and opened 826 trading markets. The average daily spot trading volume is 1 billion US dollars.
Bibox is a trusted trading platform for cryptocurrency traders and investors from all over the world, with 1 million users from 160 countries. Their platform is especially popular in Asia, Europe, and North America.
How to extract my transactions from Bibox for tax calculation and portfolio management?
At CRPTM, we streamline the process of tax reporting for Bibox users. Our easy tax calculation and report generation process is simple to follow. Just a seamless integration of Bitbox with CRPTM via API and you can be confident that your tax calculations are being handled by the best.
How to get the API Keys on Bibox?
How to integrate Bibox with CRPTM via API?
Login to your CRPTM account.
Head over to the "Account" section on the top navigation bar of the page.
Click on the "Add Account" from the drop-down menu.
Type "Bibox" in the "Add Account" search field or select "Bibox" from the list of exchanges below it.
Click on "Import Your Trades"
Next, click on "Continue"
Enter or paste the new API key onto the API Key box section.
Enter or paste the new API Secret onto the Secret Key box section.
Click on "Connect Account"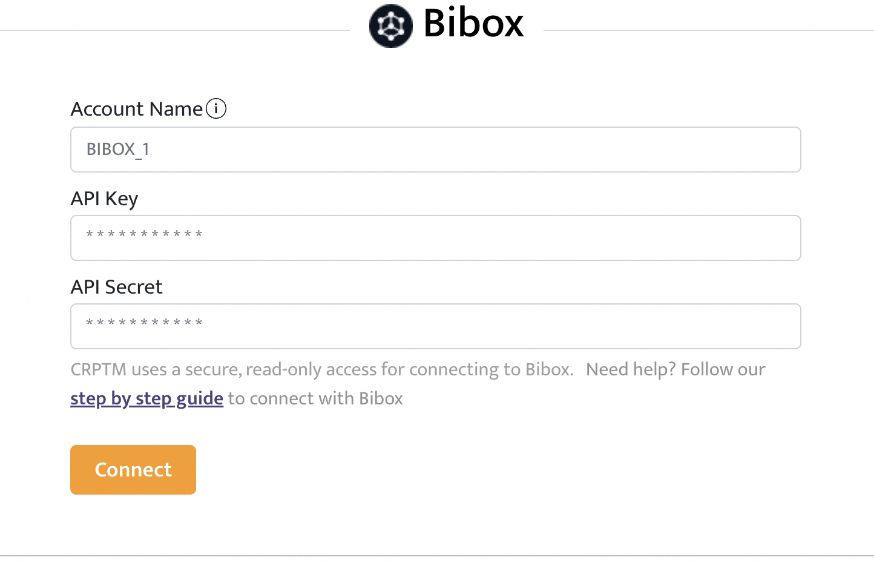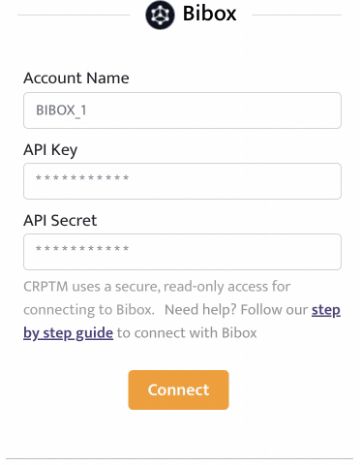 Perfect! Bibox is now connected to CRPTM!
Here's some good to know information for you.
It may take some time to integrate all your Bibox transactions into CRPTM if you have a high volume of them. A few minutes may pass before they appear under "My Accounts." If you want to check whether the transactions in your CRPTM portfolio match those in your Bibox account history, feel free to compare them. If there are any discrepancies that you see and you would like us to investigate, please let us know so we can investigate whatever caused the error.
Still having trouble integrating Bibox to CRPTM?