CRPTM makes taxes effortless by taking care of the entire process for you so that everything is done accurately and correctly. Simply integrate up your Bitrue with CRPTM via API and we'll take it from there on.
A Bit About Bitrue
Bitrue is a comprehensive cryptocurrency trading and investment company, offering products and services that cater to the needs of crypto enthusiasts. These include an active trading platform, loans, futures trading platform, high-interest yield staking and farming.
Bitrue is for those who want to trade cryptocurrencies safely and easily. Created by a group of blockchain experts, Bitrue only lists qualified coins from all around the world so you can be sure you're getting the best possible service.
Capital One's senior leadership team are some of the best in their field worldwide. They provide a unique, Advance Multi-level clustering structure and cold wallet with an unrivaled security system in the industry.
Bitrue has many offices all over the world, including the U.S., Europe, and the Asia Pacific. They make sure users have access to a ton of experiences and global knowledge.
CRPTM is your Bitrue tax solution that makes it quick, simple, and easy for you to file your cryptocurrency taxes in no time
How to extract my transactions from Bitrue for tax calculation and portfolio management?
CRPTM offers a fast and easy way to file your taxes. Simply integrate Bitrue with CRPTM, and our systems will do the rest. In just a few minutes, you can generate an accurate tax report based on your trades, capital gains and losses. Just click to generate the report and download it for submission to your local tax authority. It's that simple!
How to get the API Keys on Bitrue?
How to integrate Bitrue with CRPTM via API?
Login to your CRPTM account.
Head over to the "Account" section on the top navigation bar of the page.
Click on the "Add Account" from the drop-down menu.
Type "Bitrue" in the "Add Account" search field or select "Bitrue" from the list of exchanges below it.
Click on "Import Your Trades"
Next, click on "Continue"
Enter or paste the new API key onto the API Key box section.
Enter or paste the new API Secret onto the Secret Key box section.
Click on "Connect Account"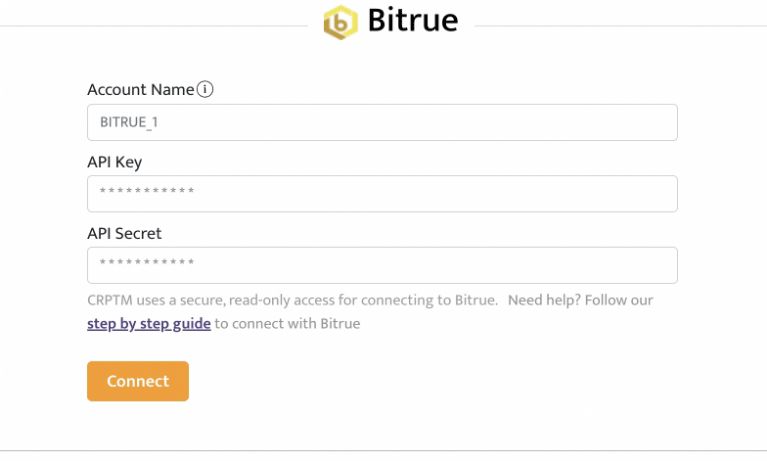 b
And ta-da! Bitrue is now seamlessly connected with CRPTM!
Here's some good to know information for you.
If the size of your data is massive, it may take a while to integrate all your transactions into CRPTM. You may have to wait a few minutes for your Bitrue transactions to appear under "My Accounts" of CRTPM. By comparing the transactions in your CRPTM portfolio with those found in your account history on Bitrue, you can confirm that your export was accurate. If there are any differences that you notice, please contact us for further assistance.
Still having trouble integrating Bitrue to CRPTM?