CRPTM offers a simple solution for your Huobi tax reporting needs. Be rest assured that your tax calculation needs are in good hands. Our process is simple: just follow a few steps and integrate Huobi with CRPTM via API- that's it!
A Bit About HUOBI
Originally established in China, the Huobi cryptocurrency exchange has since expanded to include offices in locations such as Hong Kong, South Korea, Japan and the United States. In March 2018, this company processed approximately US $1 billion worth of trades each day.
The parent company, Huobi Group, was founded in 2013 with the goal of becoming a leading player in the digital economy industry. The company seeks to make breakthroughs in core blockchain technologies and integrations of blockchain technology with other industries. Huobi Group has expanded into many different areas of the blockchain industry, including public and private chains, digital assets trading and wallets, digital economy research, etc. With these expansions, Huobi Group has established a global ecosystem for the digital economy.
The Huobi Group has licensed digital assets services in many countries and regions across the globe. With a commitment to globalization, professionalism, compliance and diversity, it is dedicated to providing safe Internet of Value (IoV) services trustworthily to tens of millions of users across more than 100 countries and regions. Specifically, the Huobi Group has established regulated entities in key markets such as Japan, South Korea, Gibraltar, etc.
CRPTM is the leading tax solution for Huobi users. Our simple and secure platform makes it easy to file your taxes on all of your Huobi crypto transactions
How to extract my transactions from HUOBI for tax calculation and portfolio management?
With just a few clicks, you can generate an accurate HUOBI tax report that includes your trades, capital gains, and losses. Plus, our systems will do the rest in minutes so you can download the completed report to submit to your local tax authority--it's as convenient as that!
How to get the API Keys on HUOBI?
How to integrate HUOBI with CRPTM via API?
Login to your CRPTM account.
Head over to the "Account" section on the top navigation bar of the page.
Click on the "Add Account" from the drop-down menu.
Type "HUOBI" in the "Add Account" search field or select "HUOBI" from the list of exchanges below it.
Click on "Import Your Trades"
Next, click on "Continue"
Enter or paste the new API key onto the API Key box section.
Enter or paste the new API Secret onto the Secret Key box section.
Click on "Connect Account"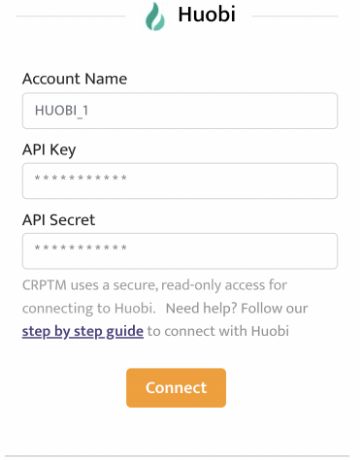 You're good! HUOBI is now integrated with CRPTM!
Here's some good to know information for you.
If you have a lot of transactions, it may take some time to integrate all your transactions into CRPTM. A few minutes may pass before your HUOBI transactions appear under "My Accounts" in CRPTM. If you want to check whether the transactions in your CRPTM portfolio match those in your HUOBI account history, feel free to compare them. If there are any discrepancies that catch your eye, please let us know.
Still having trouble integrating HUOBI to CRPTM?