Looking for an accurate and easy way to calculate your IDEX crypto taxes? Look no further than CRPTM. By following our simple steps to connect IDEX with CRPTM via API, you can quickly generate your IDEX tax report!
A Bit About IDEX
IDEX is a decentralized exchange network that uses aspects of centralized exchanges to speed up the process. The platform works on both Ethereum and Binance Smart Chain. DEXs usually use the automated market maker model to carry out trades, but IDEX has taken a different strategy.
While many people argue about whether IDEX is classified as a decentralized or non-custodial exchange, the fact remains that it uses order books to enable supported cryptocurrency exchanges. In order to use IDEX, customers must complete know your customer verification and provide their email address. The stop-loss function is one of the many features that IDEX offers which are also found on centralized exchanges. Recently, IDEX became available on Polkadot as part of the project known as IDEX Multichain.
The main goal of IDEX is to enable thousands of transactions to be executed and processed within seconds. Users can exchange cryptocurrencies supported by Ethereum, Polkadot, and Binance Smart Chain on the platform. The IDEX token is the utility token of the exchange and can be staked by Nodes to validate transactions on the off-chain ledger.
How to extract my transactions from IDEX for tax calculation and portfolio management?
When IDEX integrates with CRPTM via API, it makes it easier than ever to report your IDEX crypto taxes. CRPTM will automatically calculate your IDEX taxes based on your location and generate your EOFY tax report, all within minutes! At tax time, simply download your tax statement from CRPTM and file it with your local tax authority!
How to connect the API Keys on IDEX?
Login

in to your IDEX account.

Hover over your profile icon and click it
Select "API keys" from the drop-down menu
Click on "Generate new API key"
Under the "API keys" section, choose the ready option
Complete the verification process, if it is enabled
Then click on "Generate new API Key"
Copy the new API key and API secret
How to integrate IDEX with CRPTM via API?
Login to your CRPTM account.
Head over to the "Account" section on the top navigation bar of the page.
Click on the "Add Account" from the drop-down menu.
Type "IDEX" in the "Add Account" search field or select "IDEX" from the list of exchanges below it.
Click on "Import Your Trades"
Next, click on "Continue"
Enter or paste the new API key onto the API Key box section.
Enter or paste the new API Secret onto the Secret Key box section.
Click on "Connect Account"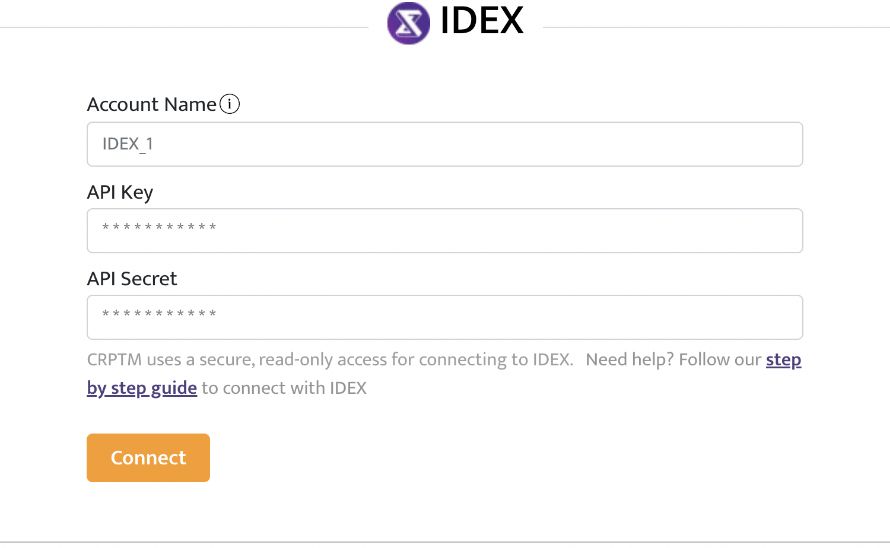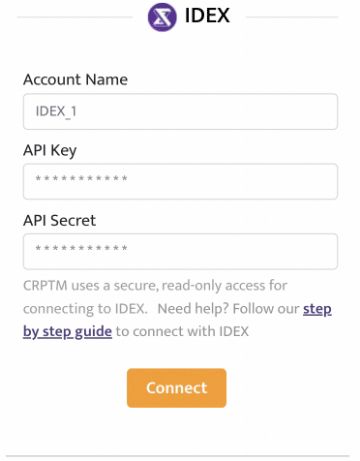 You're all set! Your IDEX is now connected to CRPTM!
Here's some good to know information for you.
If you send CRPTM data through API integration, it might take a few minutes for the sync to complete, especially if you have a lot of transactions. Once your data has synced, you'll see it under "My Accounts." The easiest way to confirm that your IDEX export was accurate is to compare the transactions in your CRPTM portfolio with those recorded in your account history on their website. If there are any differences, please reach out to us for assistance.
Still having trouble integrating IDEX to CRPTM?