CRPTM offers an easy way for Latoken users to calculate and submit their crypto taxes. In just a few clicks, you can generate the necessary report for submission to your tax authority.
A Bit About LATOKEN
LATOKEN is a global crypto exchange and IEO platform used by 1.3+ million people worldwide.
LATOKEN uses blockchain technology to automate transaction processing and save billions of working hours per year. In only one year since its launch, LATOKEN has received 850,000+ downloads on Google Play and 1,200,000+ subscribers on social networks. The LATOKEN IEO Launchpad is perfect for entrepreneurs and business owners seeking financial backing. As an added bonus, more than 300 digital assets and 500 crypto pairs are available to traders. Connection is a cinch with either RESTful APIs or WebSocket!
To enhance the user experience, Latoken not long ago introduced a P2P service. Also, it successfully hosted the Blockchain Economic Forum. The BEF roadshows' purpose is to bring together crypto investors and businessmen so they can construct large-scale projects.
How to extract my transactions from LATOKEN for tax calculation and portfolio management?
At CRPTM, we want to make tax reporting as easy as possible for LATOKEN users. All you have to do is integrate LATOKEN with CRPTM via API and you're all set! With our process, calculating and generating reports is a breeze so that you can be rest assured knowing your taxes are in good hands.
How to get the API Keys on LATOKEN?
How to integrate LATOKEN with CRPTM via API?
Login to your CRPTM account.
Head over to the "Account" section on the top navigation bar of the page.
Click on the "Add Account" from the drop-down menu.
Type "LATOKEN" in the "Add Account" search field or select "LATOKEN" from the list of exchanges below it.
Click on "Import Your Trades"
Next, click on "Continue"
Enter or paste the new API key onto the API Key box section.
Enter or paste the new API Secret onto the Secret Key box section.
Click on "Connect Account"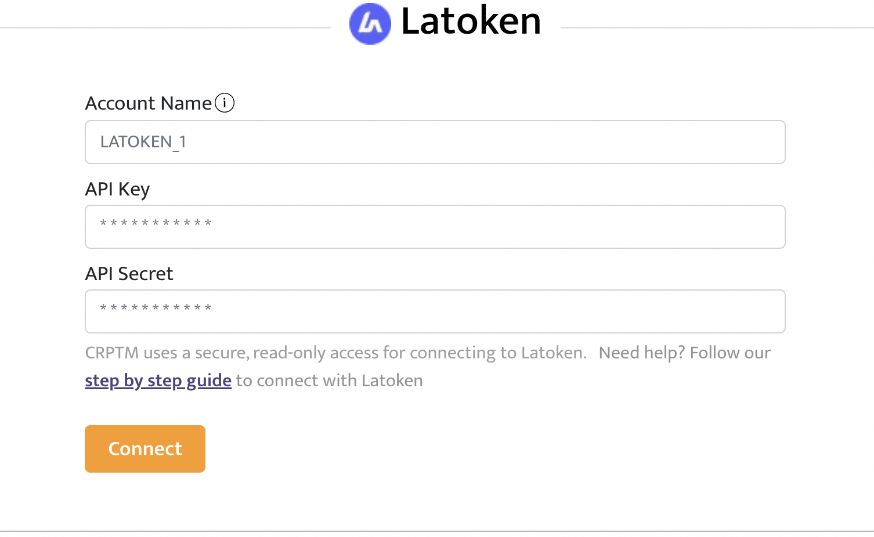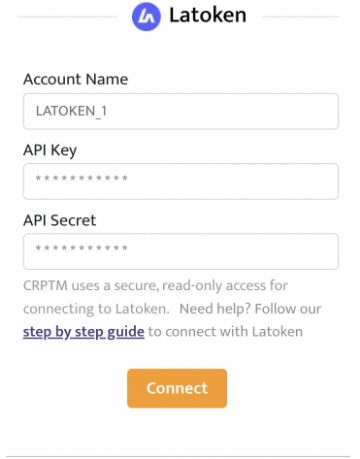 All done! LATOKEN is now connected to CRPTM!
Here's some good to know information for you.
If you have a lot of LATOKEN transactions, it might take some time to integrate them all into CRPTM. A few minutes may pass before they appear under "My Accounts." If you want to check whether the transactions in your CRPTM portfolio match those in your LATOKEN account history, feel free to compare them side-by-side. If there are any discrepancies that you see and you would like us to investigate, please let us know so we can look into the issue.
Still having trouble integrating LATOKEN to CRPTM?